The Manual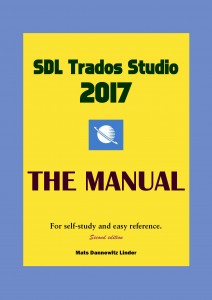 The 2017 version
The third edition of the 2017 version of this critically acclaimed, comprehensive manual was published in April 2018, with 561 A4 pages. It is a manual written for the translator by a translator.
This update includes coverage of all the new features introduced in Service Release (SR) 1 and of several new SDL AppStore applications. The page references in the index are now hyperlinked.
Also in versions for Studio 2015 and 2014 (at 517 and 497 pages, respectively). PDF format, for own printout (i.e. you are not buying a printed book – sorry!) and reading on screen. A more detailed description is given here.
How to buy
Please select version (2017, 2015 or 2014) and currency as well as price (2017: USD 52, EUR 49 or SEK 450 + moms; 2015: USD 50, EUR 47 or SEK 430 + moms; 2014: USD 48, EUR 45 or SEK 400 + moms).