The Manual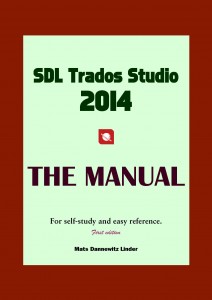 Now released: the 2014 of this joint winner of SDL OpenExchange popularity prize
The 2014 version of this critically acclaimed, comprehensive manual was published in November, with 430 A4 pages. It is a manual written for the translator by a translator. Also in versions for Studio 2011 and 2009 (at 380 and 345 pages, respectively). PDF format, for own printout (i.e. you are not buying a printed book – sorry!) and reading on screen. A more detailed description is given here.
As for the popularity prize, see this blog post.
How to buy
Select version (2014, 2011 or 2009) and currency (2014: USD 49, EUR 38 or SEK 330 + moms; 2011 and 2009: USD 45, EUR 34 or SEK 300 + moms).
Free updates: The manual is updated twice a year; every buyer will be notified for free download (note that this does not include upgrades from one "year" version to another; see below). The current third edition includes the functionalities which were introduced with the update of Studio SP2, plus a large number of new tips, instructions and links to resources on the web added since the second edition.
Discount for "upgrade" from 2009 to 2011: Buyers of the 2009 version can buy the 2011 version at a 60 % discount. The same principle (possibly not the same discount) will apply to the (upcoming) 2014 version.
Sample pages
Version 2014
Version 2011
Version 2009