The SDL AppStore site is renovated from time to time. Also, not all functions on it are self-evident. So here is a brief orientation which may help you to utilize it without too much experimentation.
This is the start page: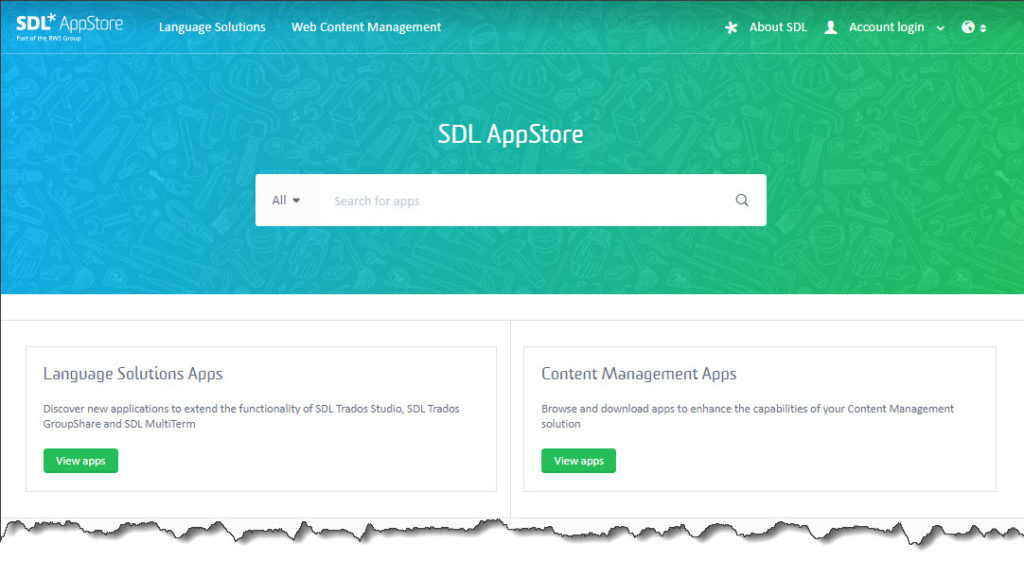 Unless you are interested in web content management, select Language Solution Apps. You will be shown apps in these categories: Trending apps, Recently added / updated, Most popular for Studio 2019, and Apps for terminology.
You can to narrow your search by clicking the View all apps button, which leads to these filtering options: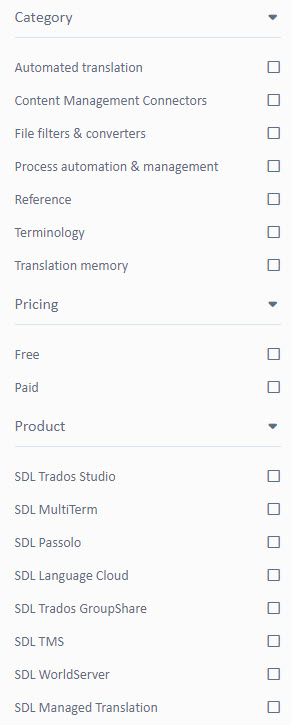 Your selections are shown above that menu, like in this example:

The apps that are shown can be sorted using these two buttons:

Clicking Top rated (or whatever that position says – i.e. your latest choice), you get a choice of Last updated – Most downloaded – Most recent – Most reviewed and Top rated.
With the arrow at right, you will have the apps sorted top down or the opposite (Last to Oldest or the reverse, Most to Least or the reverse, etc.).
Some words of explanation:
Last updated and Most recent seem to be the same. A "last updated" (or "recent") app is an app that is either new, has newly been revised (with a new edition number), or has newly been revised even if the edition number is the same. A bit confusing.
Most reviewed is exactly that (although of course the reviews are not always positive; however, they sometimes contain valuable information, so it may pay to take a look).
Top rated are apparently the apps with best ratings. However, the rationale for the ordering of the non-reviewed apps is not clear.
As you can see, there are many similarities between this site and the AppStore window in Studio. And despite its advantages there is still room for improvement (apart from such minor matters as clarification of the Last updated/Most recent, Most reviewed and Top rated categories). And you still cannot sort the plugins by alphabetical order – but of course that is now the default presentation in the corresponding Studio window. For myself, I would also like to see such a simple thing as a designated space for the price of the paid apps.