The SDL OpenExchange is no more. In its place we now have the SDL AppStore. But what's in a name? There are more important changes: the user interface has been completely re-vamped and is now very much more user-friendly. Here is a brief orientation which may help you to utilize it.
This is the start page: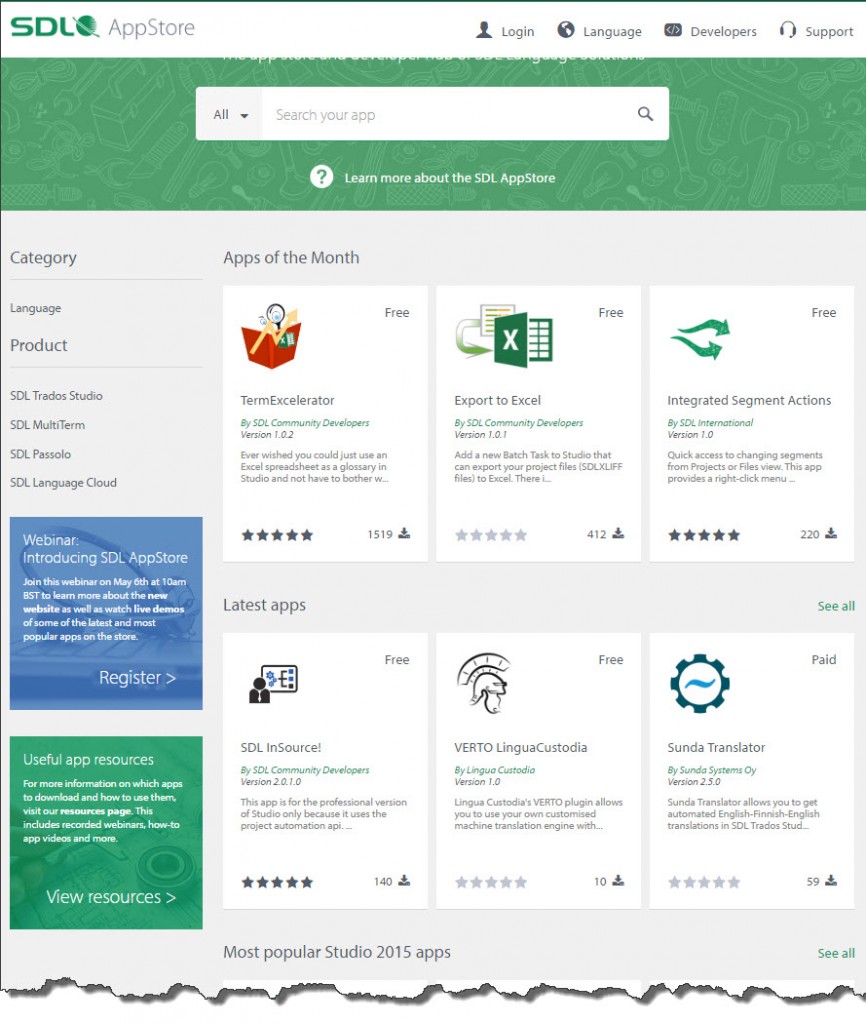 However, this is mainly a showcase; as soon as you make a search or click a See all link, you will get more search options (see below). What, then, do the categories here stand for?
Apps of the Month are apps that SDL wants to promote at the moment, such as now apps, older but popular apps, apps that – for some reason – need more exposure.
Latest apps are just that (but they are called, on the other pages, Most recent). A "late" (or "recent") app is an app that is either new, has newly been revised (with a new edition number), or has newly been revised even if the edition number is the same. A bit confusing.
Most popular Studio 2015 apps are the most downloaded Studio 2015 apps.
At the bottom of the page there are four Apps for terminology. It will change to other categories now and then.
So how do you search?
As soon as you use the search field (and, by the way, All to the left in the field means All products; click the arrow and you get the same options as under Product to the left on the page) or as soon as you click a See all link, you arrive at a page like this, with the apps listed 15 per page (unless of course your search results in fewer hits):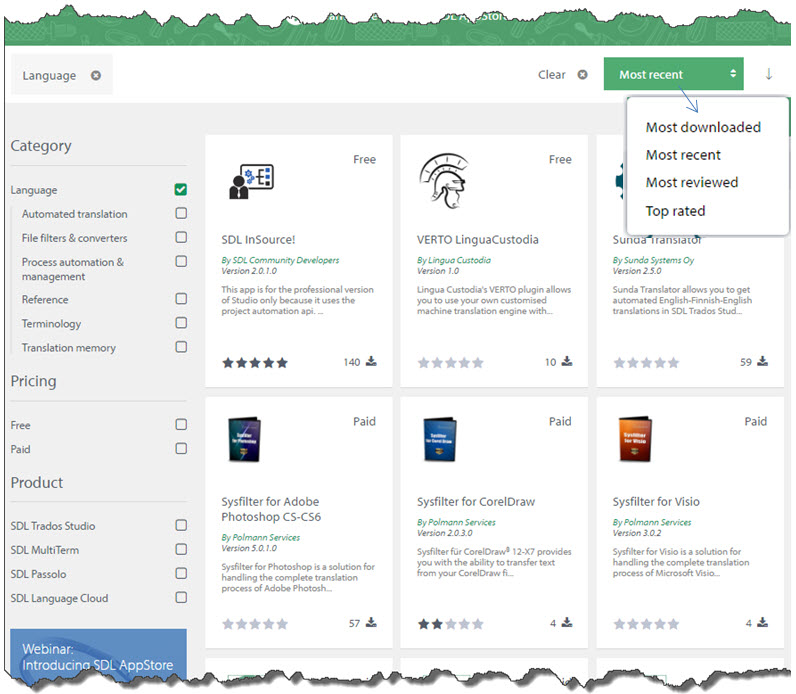 As you see, you can filter for product, pricing and categories (but note that the Language sub-menu, where you can select different categories, is not visible until you select Language).
The options on the green menu at right: Most downloaded and Most recent are the same as on the start page (with Most recent = Latest apps). Most reviewed is exactly that (although of course the reviews are not always positive; however, they sometimes contain valuable information, so it may pay to take a look). Top rated is… I don't know. Not those with the best review grades, anyway.
So there you are: a brand new and much more user-friendly presentation. If you haven't explored the SDL AppStore before, when it was called OpenExchange, don't hesitate. A whole new world of useful additions to Studio is waiting for you there. And if you want more advice on how to make the most of this world, read Paul Filkin's blog post Managing your SDL Plugins.
And as a consequence of the user-friendliness of the AppStore site, I see no reason to retain the OpenExchange overview any longer.